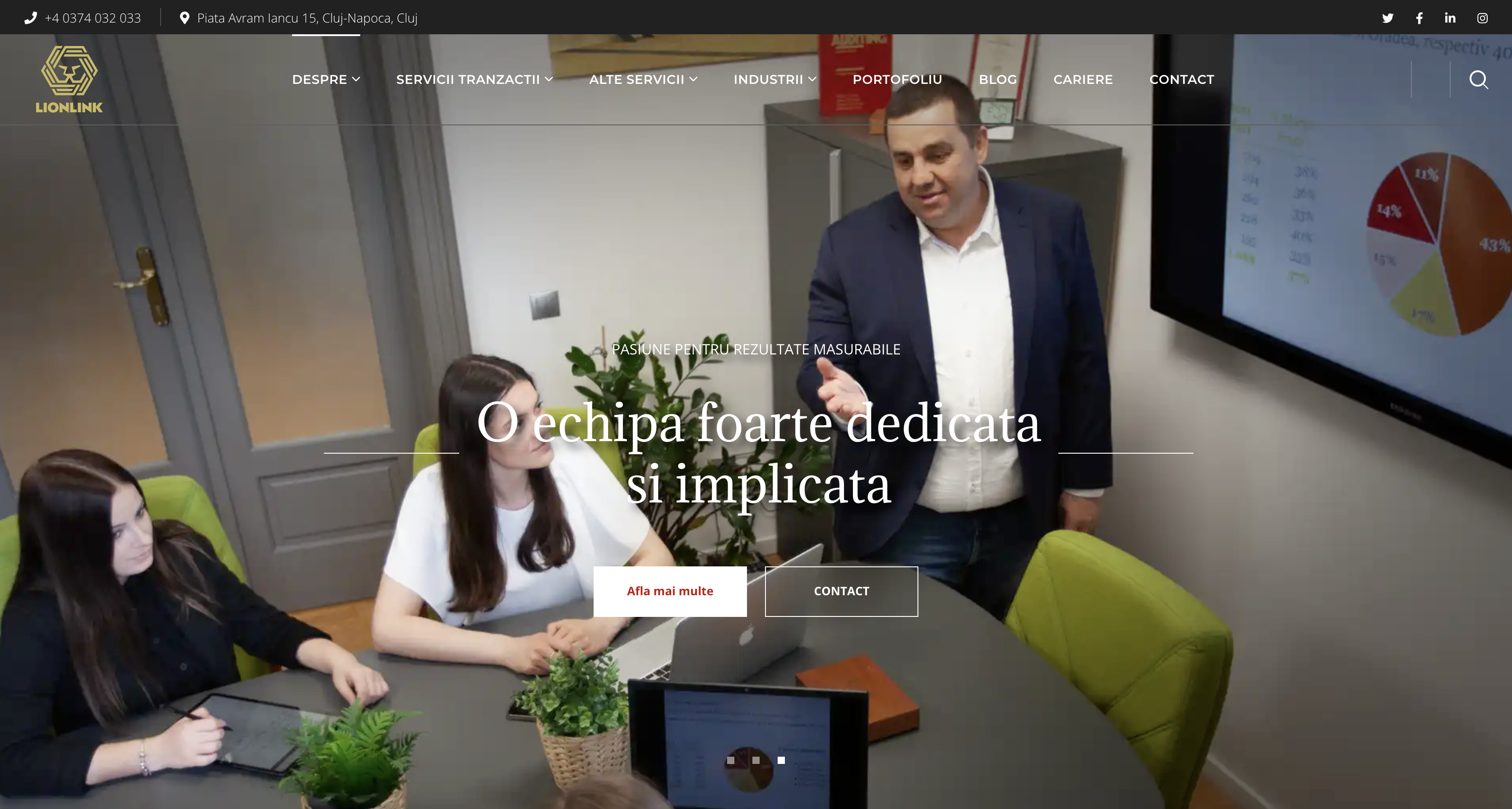 Aysa.ai and LionLink.ro: An Innovative Collaboration
We are excited to announce a new partnership between Aysa.ai, a leading platform in SEO automation, and LionLink.ro, a renowned financial consulting and auditing firm based in Transilvania. This strategic collaboration will not only enhance LionLink's online visibility, but also streamline their digital operations, highlighting the power of combining SEO managed services with state-of-the-art automation.
Bridging Finance and SEO: A Shared Vision
LionLink.ro has chosen to leverage Aysa.ai's advanced SEO automation services to optimize their online presence. This partnership underscores LionLink's commitment to adopting innovative technologies to better serve their clients.
With Aysa.ai's expertise, the company will be responsible for designing and developing a new website for LionLink.ro. The ultimate aim is to maximize LionLink's online visibility, which is crucial in today's digital age.
LionLink.ro: Trusted Partner in Financial Services
Founded in 2009 amidst financial crisis, LionLink.ro quickly established itself as an independent market leader in financial services in Transilvania. They offer a wide array of professional services, from financial and internal auditing, strategic consultancy, to M&A advisory, demonstrating a robust expertise in handling critical situations and opportunities for their clients.
LionLink.ro boasts a seasoned team that has successfully conducted numerous transactions over the years. This experience, coupled with a focus on providing services that meet international standards, has led to the satisfaction of 28 clients and contributed to business transactions amounting to over 520 million Euros across the companies in their portfolio.
Comprehensive Financial Services by LionLink.ro
LionLink.ro provides an extensive range of financial services tailored to meet the diverse needs of businesses. These include:
A Strategic Move Towards SEO Optimization
This partnership symbolizes LionLink.ro's recognition of the importance of SEO in achieving online prominence. By joining forces with Aysa.ai, LionLink.ro is poised to bring their digital visibility to new heights, thereby expanding their reach and increasing client engagement.
The Power of Collaboration
we are thrilled to leverage our strengths in SEO automation to support LionLink.ro's digital transformation journey. This collaboration will not only drive significant online traffic towards their newly developed website, but it will also enhance their client's online experience. The aim is to make it easier for potential clients to find, navigate, and access the broad range of services that LionLink.ro offers.
Navigating the Future Together
With this partnership, Aysa.ai is cementing its commitment to helping businesses across various sectors optimize their online presence through automated SEO services. As for LionLink.ro, they continue to demonstrate a forward-thinking approach by incorporating digital strategies into their core business model.
A Promising Horizon Ahead
The collaboration between Aysa.ai and LionLink.ro represents an exciting chapter for both companies. Together, we anticipate significant enhancements in LionLink.ro's digital reach, client engagement, and overall market visibility. By merging the best of automation and SEO, we are taking a significant step towards the future, where businesses can seamlessly blend their professional services with an optimized digital presence.
Stay tuned as we embark on this exciting journey with LionLink.ro. Our mission is to create a dynamic online platform that accurately reflects the quality, depth, and breadth of LionLink.ro's comprehensive financial services.
With Aysa.ai's automated SEO services and LionLink.ro's unwavering dedication to their clients, we are confident that this partnership will lead to new opportunities and unprecedented growth for both companies.