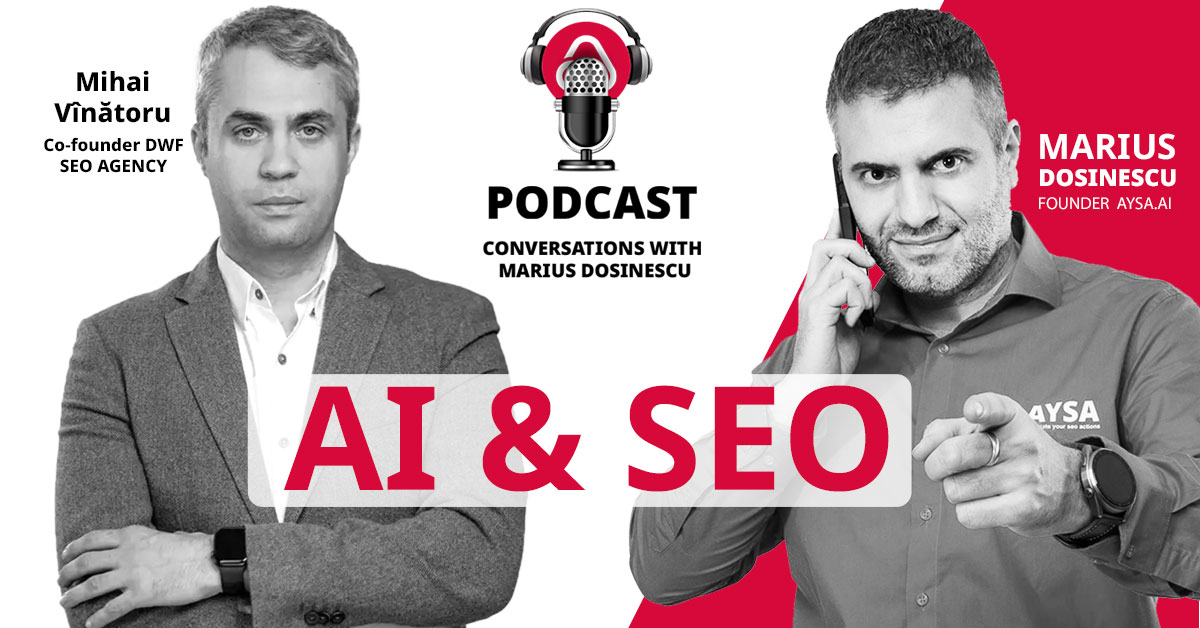 In this Episode of Conversations with Marius Dosinescu will discuss with Mihai Vinatoru, CEO DWF SEO AGENCY about how AI will impact the activities of SEO Agencies and SEO industry as a whole!
Episode 3 Premiere:

Wednesday, 25 of January, 11.00
About Mihai Vinatoru, Co-Founder @ DWF Seo Agency & CEO
Passionate about technology, husband and father of three wonderful kids. Since 2013 I am 110% dedicated to DWF – currently the largest SEO agency in Romania and the only SEO agency from our country that is part of CEE Digital Alliance.
Our mission is to help Romanian brands be more visible in Google's organic search results. To achieve this, we use the best SEO tools in the world as well as a proprietary SEO methodology we developed based on our work experience.
I work with 100+ SEO specialists, content writers, link builders, data analysts and project managers – the DWF Team.
Recommended books:
Start with Why – Simon Sinek
Shoe Dog – Philip Knight
Open – Andre Agassi
Jurnalul fericirii – Nicolae Steinhardt
Crima si pedeapsa – F.M. Dostoievski
Marius Dosinescu, founder @ Aysa.ai (SEO automation software powered by AI) – The host of the podcast, Conversations with Marius Dosinescu
Marius Dosinescu is a successful businessman with more than 23 years of experience in the IT, SEO, and e-commerce industries. His enthusiasm for new ventures and the thrill of starting and growing successful businesses serve as his driving forces.
Throughout his career, Marius has demonstrated an unwavering dedication to helping other business owners achieve their goals by using the knowledge he has gained from his own experiences to provide sage advice.
Marius is the creator of AYSA.ai, an innovative tool for SEO automation that aids companies in raising their online exposure and search engine ranks.
He is also the creator of Amon SEO, an internet marketing and SEO firm that aids companies in realizing their full potential.
Additionally, Marius founded FlorideLux.ro, the best online flower shop in Romania, which offers a wide range of luxury bouquets and gifts.
In addition to his business pursuits, Marius is also a mentor at the Founders Institute, where he provides mentorship and guidance to the next generation of entrepreneurs.
As a father and husband, Marius values family and balance in life, and he is always looking for ways to give back to his community.
With his extensive experience, entrepreneurial spirit, and dedication to helping others, Marius is a valuable asset to any business or organization.
Ahrefs artificial intelligence automation automation tools aysa.ai aysa.ai seo magento 2 backlink analysis backlinks Competitor Analysis content creation Content optimization digital marketing E-commerce e-commerce industry e-commerce seo ecommerce ecommerce seo google Google Analytics Google Keyword Planner Google Search Console Keyword research keywords link building machine learning machine learning algorithms magento 2 Moz Pro on-page optimization online presence organic traffic search engine optimization search engine rankings search engines SEMrush seo seo automation SEO Automation Software SEO Tools technical SEO traffic user-friendly interface visibility website performance website traffic