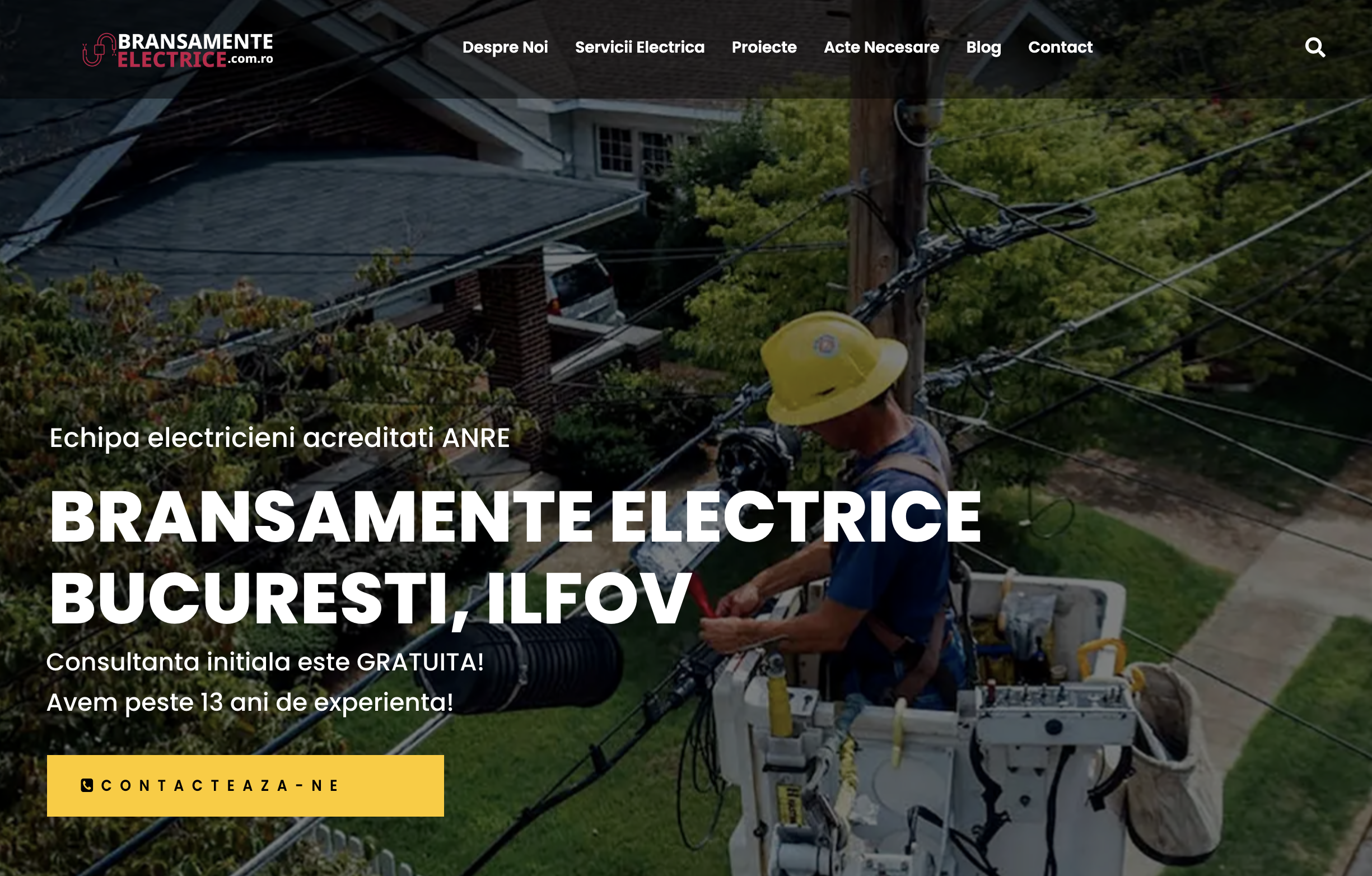 First-page ranking within 30 days of collaboration, setting benchmarks in the electrical industry

Marius Dosinescu
The search engine optimization landscape saw a significant shift when Aysa.ai, an SEO automation software, onboarded a new client, S.C. Vladuta Topaz Imobiliare S.R.L, the renowned provider of electric connections, or "bransamente electrice." Within a month of their collaboration, Vladuta Topaz's website, bransamenteelectrice.com.ro, rocketed to the first page of Google search results, achieving top ranks for multiple keywords.
The perfect intersection of SEO automation and high-quality electrical services has put bransamenteelectrice.com.ro in the spotlight, dominating in the regions of Bragadiru and Bucharest for the search terms "bransamente electrice," "bransamente electrice bragadiru," "bransamente electrice bucuresti," and more.
A Deeper Dive into Vladuta Topaz Imobiliare
S.C. Vladuta Topaz Imobiliare S.R.L, founded over thirteen years ago, specializes in providing electric connections to residential, commercial, and industrial buildings. They offer both underground and aerial cable solutions, ensuring each connection is reliable and safe. Their team of professionals uses superior quality materials and equipment, operating in compliance with the current standards in the electricity distribution sector.
Providing an initial consultation for free, Vladuta Topaz sets the bar high in customer service. They also offer specialized consultancy and project planning for electrical systems, providing customized solutions for each client's needs.
The Journey to Success
Founded in October 2010 by a team of experienced professionals, Vladuta Topaz commenced their operations by laying the foundation for their services. They expanded their services after successfully completing several projects and, in November 2018, proudly delivered their first extensive residential projects.
Further growth followed when, in March 2016, the company received ANRE accreditation and decided to expand their services. This expansion continued into 2022 when Vladuta Topaz extended their reach to Bucharest – Ilfov.
Teaming up with Aysa.ai
The successful collaboration with Aysa.ai has amplified Vladuta Topaz's online presence, reaching more customers and demonstrating their competence and reliability in the field of electric connections.
By boosting the SEO performance of bransamenteelectrice.com.ro, Aysa.ai has opened new opportunities for the electric connection specialist, demonstrating the power of combining quality services with effective SEO strategies.
For those interested in superior quality electrical connections, do not hesitate to visit bransamenteleectrice.com.ro or call them at 0723 149 448.